License Plate Reader Companies Today
When they first came out, license plate reader cameras were expensive to deploy and required a dedicated power source. With the help of small solar panels as an independent power source, cameras can be installed virtually anywhere you have access to. Genetec and Flock Safety are probably names you've heard of and are two of the more popular LPR companies in existence today. Before I go any further I should disclose that Will Electronics is a Genetec Elite Partner. We do not sell Flock, as they sell directly to end-users. By contrast, Genetec sells through their integrator channel. We are merely providing an unbiased comparison of the two products.
Comparing the Two Companies
Founded in 2017, Flock was the first to create this "quick to deploy" model of fixed license plate reader cameras. With $300 million in funding raised in the span of 7 months over 2021 and 2022, Flock burst onto the scene impressively fast as a newcomer to the industry. Unlike Genetec whose offerings range across multiple security functions like video surveillance and access control among others, Flock's sole focus is on the development and sales of their quick deploy solar powered LPR cameras.
Founded in Montreal in 1997, Genetec provides a full range of software and hardware solutions for the physical security industry. Video surveillance, access control, evidence management, and license plate reader solutions are Genetec's core offerings and are considered by many to be some of the best solutions on the market. Genetec has been operating in the license plate reader space since they acquired AutoVu and it's 20 employees in 2007. Historically, Genetec's AutoVu product has been a higher cost conventional LPR system. Genetec's first LPR camera, the Sharp V, starts around $5,000 for a single fixed LPR camera when including licensing, which does not factor in hosting, connectivity, and installation.
Which brings us to AutoVu Cloudrunner. You could say Cloudrunner was Genetec's response to Flock's solar powered quick to deploy model. Part of what makes Cloudrunner so attractive is that you do not need to be a current Genetec user to implement it. Cloudrunner is the least expensive Genetec solution, making it a great way for someone who may not have had the budget for Genetec's more expensive products, to see what Genetec is capable of at a lower price point.
Comparing Market Share
Genetec's AutoVu Cloudrunner and Flock both use the same approach in that they are smaller, image only, easy install, solar powered cameras. As noted above, Genetec has been in the LPR space since 2007. However, they did not enter the market of easy to install, solar powered, subscription based LPR cameras until 2022.
Flock's Falcon and and Genetec's CR-H2 essentially have the same functional set up, with emphasis on solar power and being easy to install. The existing commercial market presence that Genetec has will undoubtedly give them a leg up against Flock, whose primary customer focus is home owners associations, municipalities, and police departments. Historically, Genetec has a strong reputation among law enforcement, public safety, and city government markets due to the success of its Security Center product. These same markets are where we're seeing them compete with Flock the most. With that said, where Genetec will have an advantage is in the commercial/enterprise/corporate settings where they have a strong base of existing customers already that Flock does not.
Processing and Performance
Cloudrunner cameras use a hybrid architecture where vehicles are detected by the camera and the license plate reads and vehicle make and model analytics are detected in the cloud servers. Storage is done onboard the camera and is able to retain tens of thousand of vehicle captures. If the cell connectivity is lost, image reads will be automatically sent to the cloud. The CR-H2 camera has a single 2MP color imager with a varifocal lens. According to Genetec, the CR-H2 is able to capture vehicles travelling up to 100mph and also covers two vehicle lanes as far as 125 feet away. Flock specified their top speed read was also 100mph but only at 75 feet away. The CR-H2 is processor is capable of reading at higher frame rates but left it at a lower rate to reserve power.
Pricing
The MSRP for Genetec Cloudrunner is $2,495 per camera per year. This price includes the camera, solar panel hardware, software, hosting, and cell connectivity. Flock cameras start at $2,500 per camera per year. This includes installation, hosting, cell connectivity, and software updates.
Comparing the Two Shots
Below are some side by side images from Cloudrunner and Flock. These images were taken at the same location at the same time of day. See the difference for yourself.
Flock: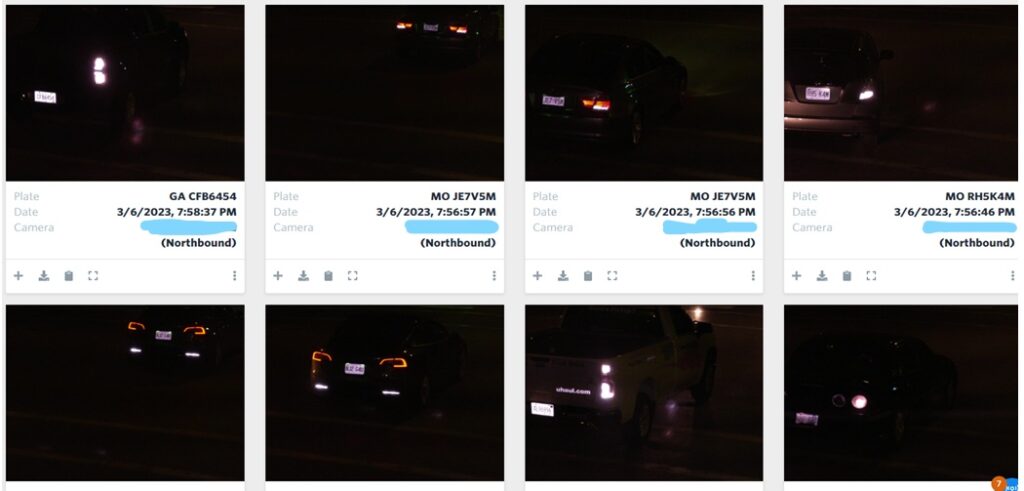 Genetec Cloudrunner:


Based on independent tests Genetec Cloudrunner has been found to have a higher accuracy rate than Flock, particularly in challenging lighting conditions. Based on the images above and what we've observed in the field, I would say that is true.

If your organization is considering implementing license plate readers, reach out and let someone from our team help you.